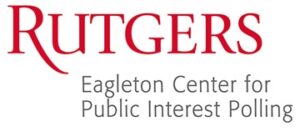 New Jersey Statewide Survey
Study Purpose
The purpose of this study is to better understand how New Jersey residents keep themselves safe and what aspects of who they are and what they have experienced influence their decisions to obtain a firearm. You will be contributing to knowledge about how individuals choose to keep themselves safe, what goes into the decision to acquire a firearm, and why individuals store their firearms in specific ways.
Should you feel distressed, the following free resources are available 24 hours per day, 7 days per week: 
National Suicide Prevention Lifeline Network: 1-800-273-8255
Crisis Text Line: Text TALK to 741-741
Veterans Crisis Line: Send a text to 838255
If you have questions about taking part in this study, you can contact:
Ashley Koning, PhD; Executive Director of the Eagleton Center for Public Interest Polling, Eagleton Institute of Politics, Rutgers University; akoning@rutgers.edu.
Michael Anestis, PhD (Principal Investigator); Executive Director of the New Jersey Gun Violence Research Center and Associate Professor of Urban-Global Public Health at Rutgers; mda141@sph.rutgers.edu.